Divemaster
Why take this course
Begin your dive career-take the first step and become a PADI Divemaster.  Working closely with a PADI Instructor, you'll expand your dive knowledge and hone your skills to the professional level.  Your confidence will grow with every breath.
What do I need to start?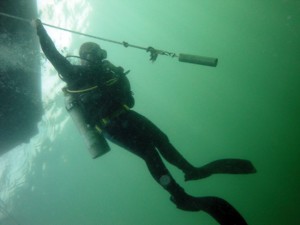 PADI Advanced Open Water and PADI Rescue Diver certifications (or qualifying certifications)
18 years old
Medical clearance attesting to dive fitness signed by a physician within the previous 12 months
40 logged dives
Emergency First Response Primary and Secondary Care course completion (or qualifying training) within the last 24 months
Provide your own dive equipment that is professional both in appearance and performance.
What will I learn?
In the Watermanship and Skill Assessment components, you'll demonstrate your comfort in the water and refine your diving skills to the point of being able to demonstrate them for students.
In the Knowledge Development component, you'll learn more about the theory of diving, including dive planning, dive management and control, supervising students in training, physics, physiology, equipment, skills and environment, and dive tables.
In the Practical Application component, you'll work with actual Open Water students in both the confined and open water and lead advanced specialty dives like wreck and deep dives.
What to expect?
The PADI Divemaster course is designed to train qualified Rescue divers in how to control, manage, and supervise groups of divers.  This three module course provides extensive development of ones' diving skills, stamina, and theoretical diving knowledge.  The swim test involves a 400 yard swim; and 800 hard mask, fin, and snorkel swim; a too yard tired diver tow in full equipment; and a 15 minute tread, all of which are timed based evaluations.  There are also extensive written exams covering the areas of physics, physiology, equipment, dive management, supervision, skills and environment, and dive tables.  For those candidates who would like to accelerate their progress through the Divemaster Course, we recommend the following PADI E-learning  courses:
PADI E-learning Divemaster Course (On-line)
PADI E-learning Dive Theory (On-line)
(E-learning costs are in addition to standard course costs)
Required Materials
PADI Divemaster Crew Pac
Recreational Dive Planner (RDP), eRDPml, and instruction booklets for both.
Current editions of the following manuals:
PADI Open Water Diver Manual
PADI Adventures in Diving Manual
PADI Rescue Diver Manual
PADI Divemaster Manual
Logbook
Want to get started right now?
Contact:  instructordevelopment@coastalscuba.com
Want It – Live It – Dive It!