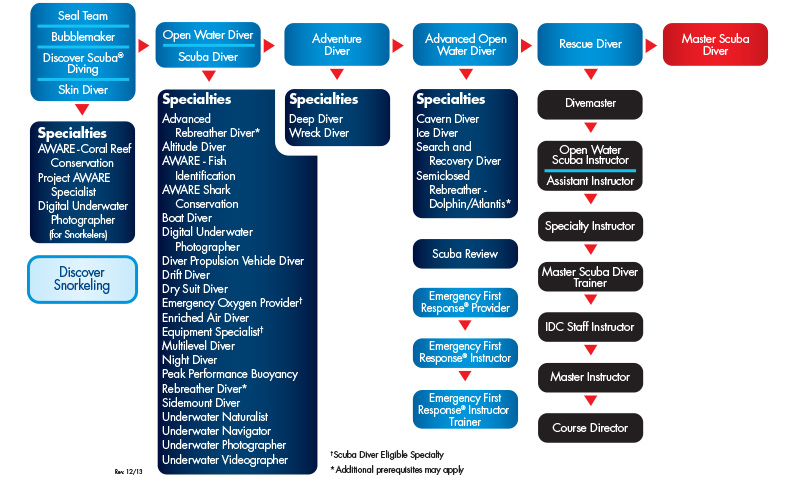 Discover Scuba (Ages 8 & up)

Discover Scuba is an underwater adventure!  You will learn some of the basics of scuba diving and then get suited up in dive gear so that you can test your new skills in the safe confines of our swimming pool.  For ages 10 and up, after you master some basic skills you can head out on our charter boat trips to experience Scuba diving in the ocean!
$45 — Pool Session
$125 — Ocean Session (Pool must be completed first)
Open Water Scuba Diver (Ages 16 and up)/Jr. Open Water (Ages 10 – 15)
This Course is the foundation of the PADI (Professional Association of Dive Instructors) learning structure.  It teaches the fundamentals of scuba diving through a three-step process; knowledge development, pool sessions and open water sessions.  The course is informative, exciting and fun.
We offer the class in a variety of different formats to meet your schedule needs.
The most popular is our 2  ½  day class. Start  for example on  Friday evening finish Sunday afternoon. Great for those with busy schedule or short time frame before a trip.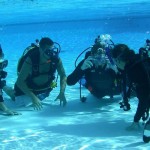 *Private Course – Lets you make the schedule.  One on one with the instructor
**Students must purchase Mask, Fins, Snorkel and Booties prior to first pool class
**Student discounts available

Course Pricing:
Books and Table $98.50 + SC sales tax
DVD's $39.95 (full refund on return)
Tuition $199.00 (includes all rental gear, pool fees and instructor fees)
Open Water Dives $195.00 for all four dives
Certification Card $35
*Private Course – Add $100.00 Instructor fee per person
eLearning course for self-paced learning available –$174.00 + Sales Tax (Replaces books, tables, and cert. card)
Advanced Open Water Diver (Ages 16 and up)/Jr. Advance Open Water (Ages 10 -15)
This course is designed to help the student perfect his or her skills in the areas of Underwater Navigation, Deep Diving, Wreck Diving and many other areas.
1. Must have an Open Water certification card from any reputable training agency.
2. Requires 5 dives on 2 days.
3. Deep dive, Navigation dive and 3 elective dives.
Elective Dives (Choose from: Boat, Multilevel, Search and Recovery, Underwater Naturalist, Photography, Wreck, Peak Performance Buoyancy)
Course Price:  $199.00 (includes all books, dive log, slates, and instructor fees)
Normal charter and equipment rental fees apply.
Rescue Diver (Ages 16 and up) / Jr. Rescue Diver (Ages 10 – 15)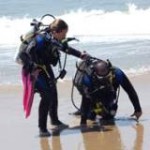 Rescue training is a fun way on increasing knowledge, skills and awareness of others.  Topics covered include, but are not limited to ; First Aid for Marine Injuries, Emergency Procedures, Self Rescue, Panic Distress Recognition, Missing Diver Rescue, Approaches.  Get ready divers —  this course is not only fun and exciting but also demanding!!
1. Must be 10 years of age or older.
2. Must have an Advance Open Water Certification Card.
3. Must have a current Medic First Aid or Red Cross CPR Card.
4. Requires 5 sessions
Course Price: $250.00
Book – $75.00
Normal charter and equipment rental fees apply
Master Scuba Diver (Ages 16 and up)/Jr. Master Scuba Diver (Ages 10 -15)
Want to be at the top of the totem pole but don't have any interest in going pro at this time?  This is the certification level for you.  The PADI Master Scuba Diver is PADI's highest non-professional certification achievable.
1. Must have PADI Advance Open Water Certification
2. Must have PADI Rescue Diver Certification
3. Must complete any PADI 5 Specialty Dives
Application Fee – $45.00
!Go Pro with the PADI Dive Master Course!
This course is the first professional rating in the PADI training structure.  Course overview; Knowledge Development, Water Skills, Practical Application.  In a nutshell you are the instructor's right hand person.
Prerequisites:
1. Advance Open Water Certification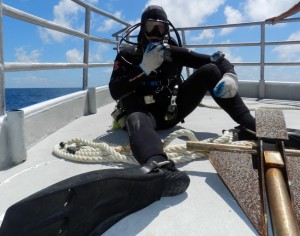 2. Proof of 20 or more logged dives with experience in Deep and Navigation diving
3. Rescue Diver Certification
4. Proof of current Medic First Aid or Red Cross CPR training
5. Be 18 years of age at the start of the Dive Master training
6. Medical clearance signed by a physician within the previous 12 months
Course price: $450
Books:  $385
Normal charter prices apply